Piccornet UH-1 Huey Attack Helicopter
Piccolo UH-1 Huey (Civilian Version)
Piccornet Construction Details
Sorry about the quality of the Airframe.
This machine was very quickly lashed together to establish whether or not the concept would fly.

The pictures were taken on the Prototype's maiden flight. I hadn't tidied up the wiring at that stage, and I also had a problem with retaining the canopy.
However, it does go to show that the heli defintley does fly, and VERY well too!! Well done Nigel!!!!

We're looking forward to the AH-64 next :)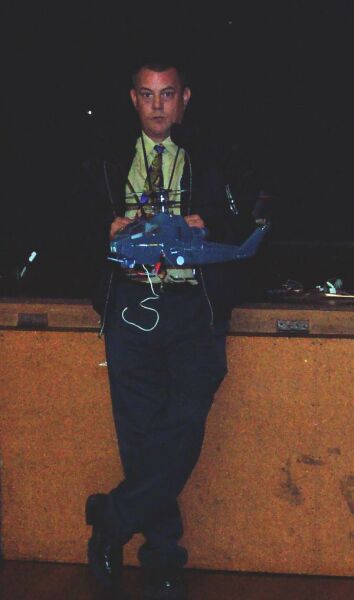 Yup, that's me above.. By the expession on my face I am either concentrating real hard, or I'm chewing a prune :)
Click on the pictures to see them in full size.
The Piccornet AH1-S:
245g Unladen 315g AUW
560mm LOA (690mm LOA inc. Rotor Disks)
500mm Rotor Dia.
3-cell ETech 1200 Hi Dscharge Li-Poly power pack
8/96t Main Motor Gear Ratio
2200 RPM Main Rotor Headspeed
~20 Mins Flying Time per charge

Construction:

Modified Ikarus ECO Piccolo Main Frame
Modified Retrofit Landing Gear
Nige's Cardboard AH1-S Cobra Fuselage (Modified)
MS Hornet CCPM CP Assembly
Alu CP Connecting Rods
Alu Stabiliser Anti-rotation Arm
"Long-Arm" 120 Degree Alu Swashplate with ARS
Custom S/S mainshaft by Walt
2.5mm Low Profile dual setscrew mainshaft collar
96t Maingear with integrated one-way bearing
8t Hard Chrome Brass Pinion
H/P Symetrical CP Blades by Walt
Std. Ikarus ECO Piccolo Tail G/Box and Tail Rotor

Motors and Electronics:
Modified Ikarus Piccoboard Plus with H/H Module
(only used for Gyro & Mixing functions)
3 x GWS Pico Servos
Berg 5 DSP 5-channel 72Mhz Rx
Hacker B20-31S Brushless Motor
Phoenix 10 Brushless ESC
Piccolo PRO Tail Motor
Schulze Slim-105He Tail ESC
Polarised Micro Deans Connectors used throughout
Futaba 8UHPS Tx
3-cell ETech 1200mAh Li-Poly battery packs
Orbit Microlader 6 Charger
Click on the pictures to see them in full size.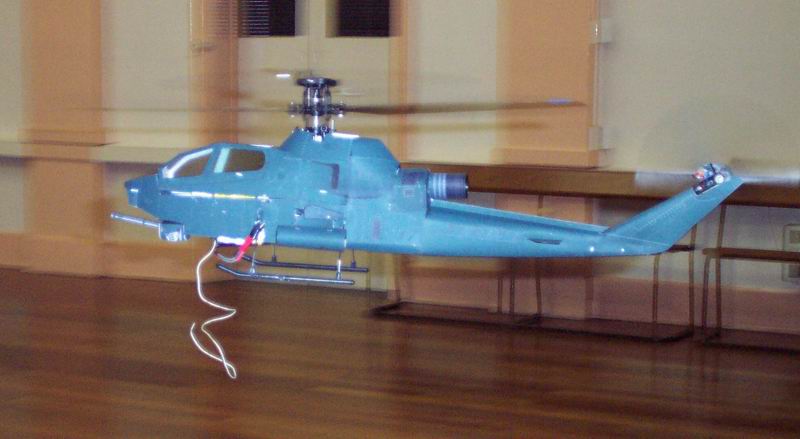 Beating up the hall in fast foward flight. By the looks of the canopy, I think the aircrew wants out!!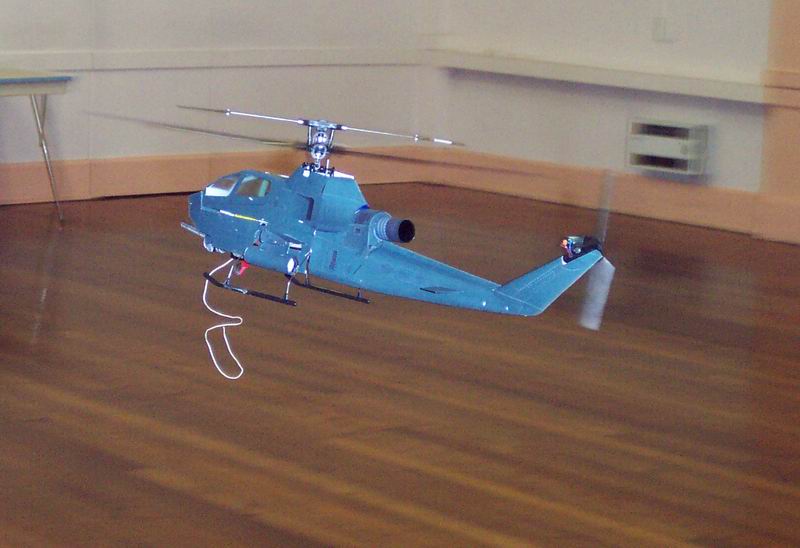 Eeeek! That table is getting close! Hurry up and pop that canopy will ya?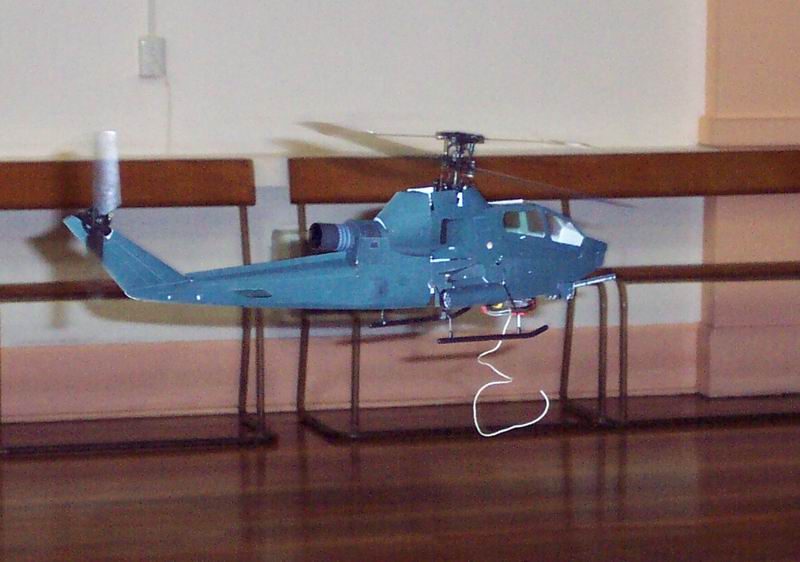 Hmm, that's a bit more sedate.. Maybe we'll stay for a little while longer....