This is a collection of shots of our 'Warbirds' that Rob took at the hall in July 03.
The pictures are of Rob Ramsey's OH-13 Sioux scout, along with my OH-58A Kiowa and OH-13 Sioux.
My OH-13 Sioux and OH-58A are well covered in other parts of this website, so here I will focus on Rob's OH-13.
Rob's Sioux is a model of NZ3711, a RNZAF* OH-13 that served with No 3 Squadron RNZAF between 1970 and 1971. Poor old 3711 had a very short life as it was crashed into a hanger in 1971, less than two years after its arrival at No3 Squadron! The aircraft was destroyed by the subsequent fire, but some parts were salvaged to construct an instrument trainer (Inst221).
Incredibly, OH-13s are still on active duty in RNZAF No.3 Squardron in 2003! Some of these machines on active duty are now 37 years old, having being purchased away back in 1965. Plans are in place to replace them sometime in the near future ( yeah right :) ).
Rob's machine is finished in current RNZAF active duty (peacetime) colours. This explains why it's a lot more colourful than my US Army active duty (wartime) one :).
To give you an idea of what a good job Rob has done, here's a picture of me (yeah it really is me!) sitting in NZ3705, taken late last year. (Click on the pic for the 800x600 fullsize)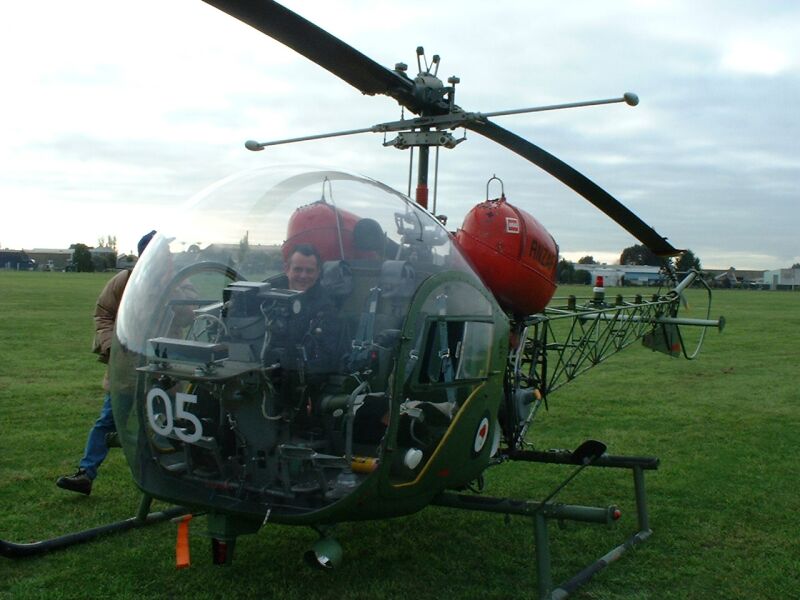 Me in NZ3705 July '02. Thanks to No.3 Squadron RNZAF
for the opportunity to photo and crawl all over and through their machines!